Fundraising for Japan with MercyCorp.
3/16/2011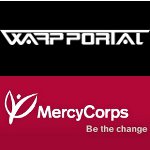 While we try and make everything about WarpPortal focus on fun and games, occasionally tragic real world events happen and shake our lives and those we care about. Right now is one of those times in Japan. We here at WarpPortal personally have many friends and family in Japan, many of our players do as well. We are very concerned over their wellbeing both presently and in the near future, we are doing everything we can as individuals to help; but more assistance is always welcome with that in mind we are combining our efforts with
MercyCorps
again to support their relief efforts in Japan.
We have a
Donation Page
with MercyCorps for this relief effort, and we hope that the compassion and generosity of our community shines through once again for this very important effort. While we can't thank each person for their good deeds enough, we do deeply appreciate your kindness. We have set a very modest goal for our fundraiser, regardless of the goals outcome every dollar helps and is appreciated. As thanks we will have an EXP event in all of our published titles from
April 7-14
in honor of those generous people who donated to this worthy cause.
Ragnarok Online : 2x exp
ROSE : 2x EXP
Requiem : 1.5x Exp
Dragon Saga : 1.5x Exp